FIRST Robotics, the Sport of Smart, is a program designed to bring students, teachers, and engineers together. FIRST's mission is to inspire young people to be science and technology leaders, by engaging them in exciting Mentor-based programs that build science, engineering, and technology skills, that inspire innovation, and that foster well-rounded life capabilities including self-confidence, communication, and leadership.
This will be my 17th year working with FIRST. Back in 2006 I was asked by our company CEO to go over and help out the Robotics Team at the high school near our campus. Seventeen years later I am still loving and hating every minute of it. Dean Kamen, the founder of FIRST Robotics, describes it as, "the toughest fun you'll ever have". I'll describe it as months of cold pizza, bad coffee, 8 day weeks, and 30 hour days working with the students to build a competitive robot by the given deadline.

And every year I cannot wait to do it again.

I believe I have volunteered and participated in over 65 events; Atlanta GA , St. Louis MO, Lehigh PA, Washington DC, Las Vegas NV, Orlando FL, Long Island NY, NYC, Hudson Valley NY, Philadelphia PA, Horsham PA, Springside Chestnut Hill (Philly) PA, and most all in New Jersey. I have probably inspected over a 1000 robots and built well over 100. It's getting to the point where you close your eyes and all you see is wheel-encoders and motor controllers.
Recommendation Letter from Dean Kamen

Dean Kamen (the Edison of our time)
About FIRST Robotics
Featured Robotics Photo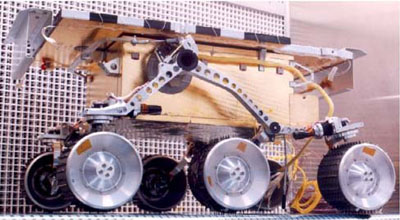 The prototype for the PathFinder was made out of plywood and drywall screws.
My FIRST Robotics' Bio
Teams
Mentor Team 6969 (2019)
Mentor Team 1279 (2010 - 2017)
Mentor Team 613 (2009)
Mentor Team 41 (2006-2008)

FIRST Mid-Atlantic Robotics (MAR)
Board of Directors (2014 - 2017)
Senior Lead Robot Inspector (2013 - 2017)

Lead Robot Inspector
NYC Regional (2009-2019)
Hudson Valley Regional (2016-2019)
Montgomery, NJ District (2016)
N. Brunswick, NJ District (2015)
Horsham, PA District (2015)
Mount Olive, NJ District (2011-2014)
CCNJ District (2012)
Washington DC, Regional (2011)

Robot Inspector
FIRST Robotics Championships (2010-2018)
FIRST MAR Championships (2010-2018)
Philly, PA Regional (2009-2011)
Trenton, NJ Regional (2009-2011)
Long Island, NY Regional (2012)
Orlando, FL Regional (2010)
Las Vegas, NV (2009)
and most FIRST MAR district events

Other
FTAA Rutgers, NJ District (2012)
Judge Montgomery, NJ District (2010 - 2011)

Robotics Photo Archives
2021 Hoping for a season
2020 Season cancelled (COVID)
2019 New Team 6969
2018 Moved to NY State
2017 Photos? I'll get to it.